If you have been on our Instagram for awhile, you may know that I have a fond relationship with all sorts of beauty products. All things from luxurious face creams, foundation, eyeshadows to hair products, obviously. Today, I'd love to devote to my current cosmetic loves. Trust me, you are going to love these amazing products and you could easily find it at the mall or a few clicks and swipes online.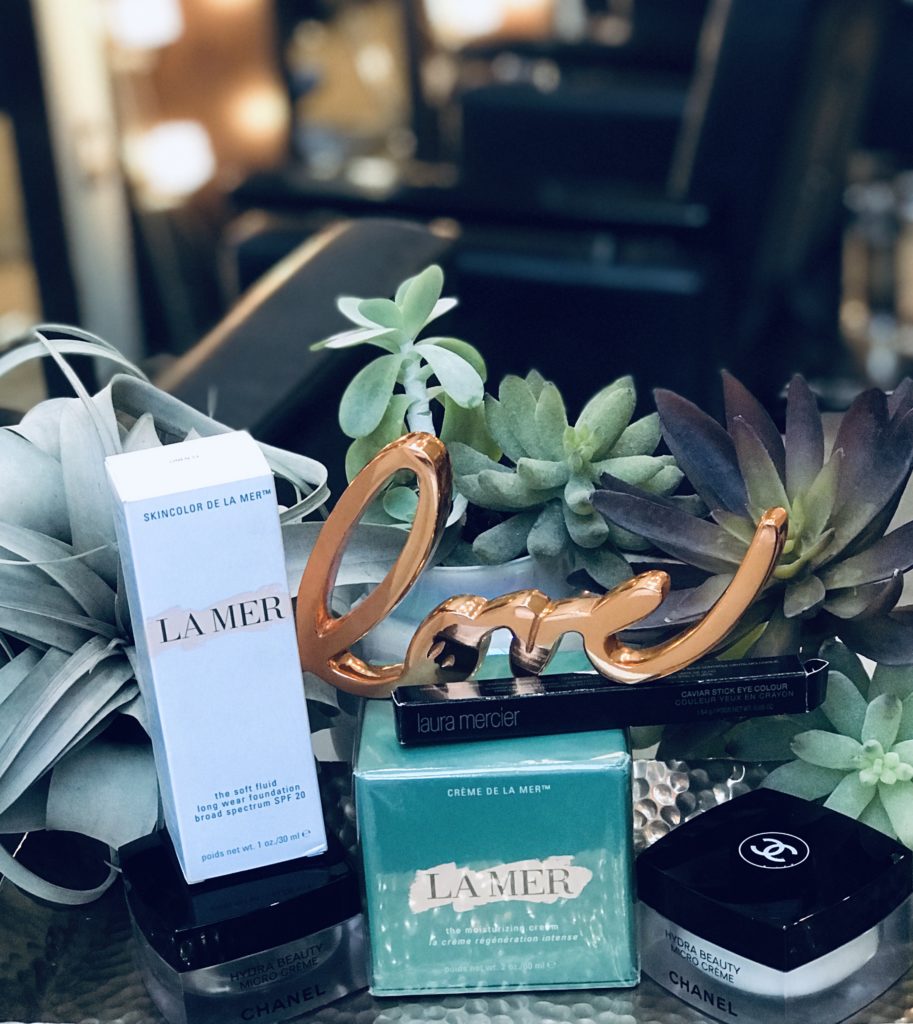 Let's start from the center. La Mer is an ultimate true love to many. Famously known for the classic moisturizing cream, shown here. I have tried all of the three formulas, Gel, Soft Cream and Traditional Cream and I must say, the original has blown me away. It is extremely concentrated, you may need about a pea size to start, warm it up with your fingers and lather over the face. This amazing formula is so rich that the 1 oz. jar is ever lasting even after a year and a half of using. Shown above is a 2 oz. La Mer. 

My new discovery is the Chanel Hydra Beauty Micro Creme, which has a gel like consistency then of a cream. It is refreshing and has a soft and inviting cent. Lathering this decadent moisturizer feels like a cool, soothing aloe vera rehydrating your skin after a long day at the beach after soaking in the sea and the sun. This product is pure bliss. Honestly, is it an overkill to have these 2 power houses of moisturizers?! The answer is absolutely not! Chanel Hydra Beauty Crème is a new and improved formula of an already great product, with the lasting ability up to 12 hours of wear. San Diego has been under a cold spell this winter, yet, my face has been completely hydrated because I use these two amazing products in conjunction of each other. During the day, I normally gravitates towards the Chanel and at night I use the La Mer as a sleep masque. Sometimes I would even follow up after the La Mer Creme with an additional layer of the Chanel Creme at night. There are many more amazing skin care products to I'd love to share but we will continue during a future blog.
Next is our makeup category. I have been using the La Mer foundation for over 2 years. I had originally tried this product during the warmer months and it took a short while to get onboard but that is because of the rich texture. Not rich in a thick, and heavy, peanut butter kind of thick. It is such a fine formula and I wasn't used to using less but less was totally more. The foundation fabulously spread over the skin and give it a perfect dewy glow unlike other traditional makeup. It has the same skin enriched and healing formula as the face cream and that was the number 1 reason I choose to use this foundation. If you wear a cream to sleep for 8 hours and spends 12 hours wearing a foundation that doesn't benefit your skin, it completely depletes the purpose. So the key is consistency. Treat your skin well and follow with healthy ingredients in makeup products, giving it a chance to breath with less coverage.
Our final item. I constantly try to be more productive and save time, being diligent when I can. I was at a Chanel makeup counter the past weekend when I spotted their crayon eye shadow in brown. Twisting it open when VOILA… it was a non shimmery color and I tried it on my wrist. Sadly to my dismay, this color was too dark and they did not have a lighter color. Reflecting on many of my online shopping experiences, I remembered that Laura Mercier also has a crayon eyeshadow, Caviar Stick Eye Colour. Luckily enough, I had found a match. I prefer to complete the eyebrows with an angel brush and powder eyebrow formula to soften the look after the crayon. You could use just about any powder eyeshadow that matches your coloring. The Caviar Stick seems to have a bit of a waxy texture that you normally could find in the eyebrow kits so it was perfect, it gather and holds my brows in place. The Caviar Stick is a lot wider than a traditional eyebrow pencil so it really help speed up the process.
I hope these info finds you well while you are searching for some new items or tips. We don't retail cosmetics merchandise but you could click on the name of each items and it will bring you to an appropriate retailer. We will work on offering some makeup tutorial shortly, check back for up to date glam.
You might also like